Workspaces for Startups
We hire customers into our space based on their culture fit. Be surrounded by like minded GSD people that are working to launch and grow their business.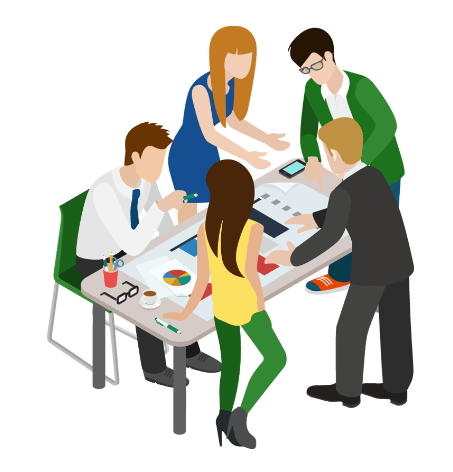 Workspaces
Hot Desks
A hot desk is a first-come-first-served open desk that can be used by any visiting member. Hot desk members are welcome to use the kitchen and open community area. They can schedule conference rooms and use all other amenities.
Dedicated Desks
Dedicated desks are in a large open area used by our engineering team. We agree that your best work is done in a quiet space. Noise is kept to a minimum in our dedicated desk area using devices that track the decibel level of each area in the open floor plan seating.
Dedicated Offices
Working on something top secret? Need to collaborate with your team or host a client presentation? We have rooms that seat up to 8 people with floor to ceiling windows, whiteboards and LCD display monitors.
Why Startup Culture?
We're a startup that works hand-in-glove with startups. Some would say that makes us startup experts. We say that makes Inventive more than just a place to set your laptop. We're a network of entrepreneurs like you. 
Startup founders don't have time to overthink their workspace. Swanky furnishings and high priced luxuries on their own do not inspire greatness, anyway. Startup culture is disruptive innovation. It's constant iteration. It's a creative collaboration. It's finding your own motivation and holding yourself accountable to it. 
Join our network of strategic relationships that can amplify your success. Be inspired by the dedication and creative problem-solving in our space. Help us build our community of creative geniuses determined to improve lives through technology.
Get Shit Done Matters
Sometimes the sheer volume of things to be done can become paralyzing. You stare at the intimidating mountain of to-dos in front of us and your brain offers up a completely unhelpful Jeff Goldblum quote, "that is one big pile of shit." Only this isn't triceratops poo, it's your livelihood. Or you are cruising along, absolutely crushing it, when you hit a wall so unexpected you wonder if Wile E Coyote painted it on the side of a rock. It is holding up your entire day. You're hostage to an issue you can't even begin to solve. So what do you do? In these moments of futility? 
Get. Shit. Done. 
You put one foot in front of the other and you do. Anything. Even if it means walking away from what needs to get done to work on something you can get done. Even if it feels insignificant. Because the action is the opposite of anxiety. And the more shit you get done, the more clutter you clear out of your mind and your to-do list, getting you back to taking on the world.
Like a Second Family: The Avengers Initiative 
At Inventive we hold a deep admiration for the Marvel universe. The collaboration to tackle big issues. The diversity and overcoming adversity. The brightly colored spandex unitards. 
Just like the Avengers support each other in more than just defeating bad guys, we exist as more than just coworkers. Come share meals with us, attend our community events, bring your dog, have a beer, pitch in to help someone, kick some ass at foosball, and be part of a group that is genuinely delighted to have you here. 
"We will work to be an example of how we, as brothers and sisters on this earth, should treat each other. Now, more than ever, the illusions of division threaten our very existence. We all know the truth: more connects us than separates us. But in times of crisis the wise build bridges, while the foolish build barriers. We must find a way to look after one another as if we were one single tribe." - T'Challa
Our Customers